CAN AN APP HELP YOU INCREASE PROFITS? THE ELSNER IIoT APP CAN!
ELSNER IIOT: OPTIMIZING your converting machine FOR PROFIT
Your biggest capital expenditure is your equipment and machinery. Are you utilizing your assets to achieve the productivity and, most importantly, output you desire? What if we told you the key is in a app...and it's FREE?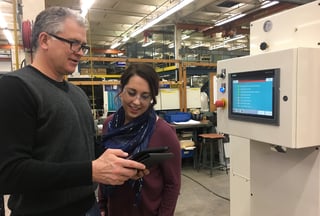 CONNECT AND PLAY: MONITORING YOUR MACHINE HAS NEVER BEEN EASIER
ELSNER IIoT makes it easy to remotely monitor your machine and gain actionable insights. Currently available on the ENR-1000 and the G3, ELSNER IIoT Gives You:
Visibility into trending for total uptime and non-productive time

Visibility to hourly production quantities to calculate run rate

Exclusive support content exclusive to the App

Usage-based maintenance schedules based on run-time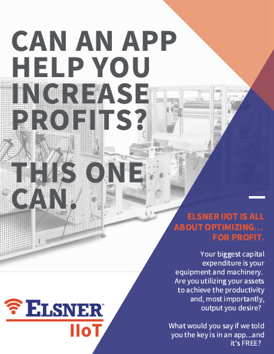 CONTACT SALES TO DISCUSS GETTING CONNECTED!